As I sat in my "Local" (aka O'Brien's Irish Pub) with Coach Mulhern and Coach Zadnik for a late-night libation – my hair still wet from the post-meet celebration – I felt a deep sense of satisfaction.
Yes, I was very pleased that our boys were able to swim so well and avenge their one-point loss to Trinity Christian back in early January, but that was not the real source of my satisfaction.
In a world that seems to have gone crazy with fear and divisiveness, I had just witnessed the Seton, Trinity Christian and Fredericksburg Christian communities come together to put on a highly choreographed and joyful competition that brought out the best in our kids.  While so many kids are still being denied the opportunity to fully compete, I felt great satisfaction in how our Seton Community rallied to prioritize the emotional, mental, spiritual, and physical well-being of our kids.
It was our 1st Annual Virginia Christian Athletic Conference Championship Meet, and in all my year's coaching at Seton, I think it was arguably the best run Conference Championship Meet yet.
As I sipped on my glass of Red Breast, I thought of all the people who were involved in making the meet so special, led of course by Paul Fifield and Bill Dealey who bore the brunt of the load.   I don't need to tell most of you reading this right now how special our livestream capability has become.   I've heard words of gratitude from countless parents, grandparents, aunts, uncles, and adult siblings who can watch the kids they love compete from places near and far – and understand what is going on!
Apparently, a lot of you, like me, love to go home and watch the replay too.  So far this season, we have had 72,000 pageviews on our website, and the single most popular page (other than the Home page, of course) is our Video page – almost 6,000 views!  That is simply remarkable for a high school swim team.
Just look at the level of technology Seton now brings to a typical swim meet.  I often joke that Seton is the only High School Swim Team with its own IT Department!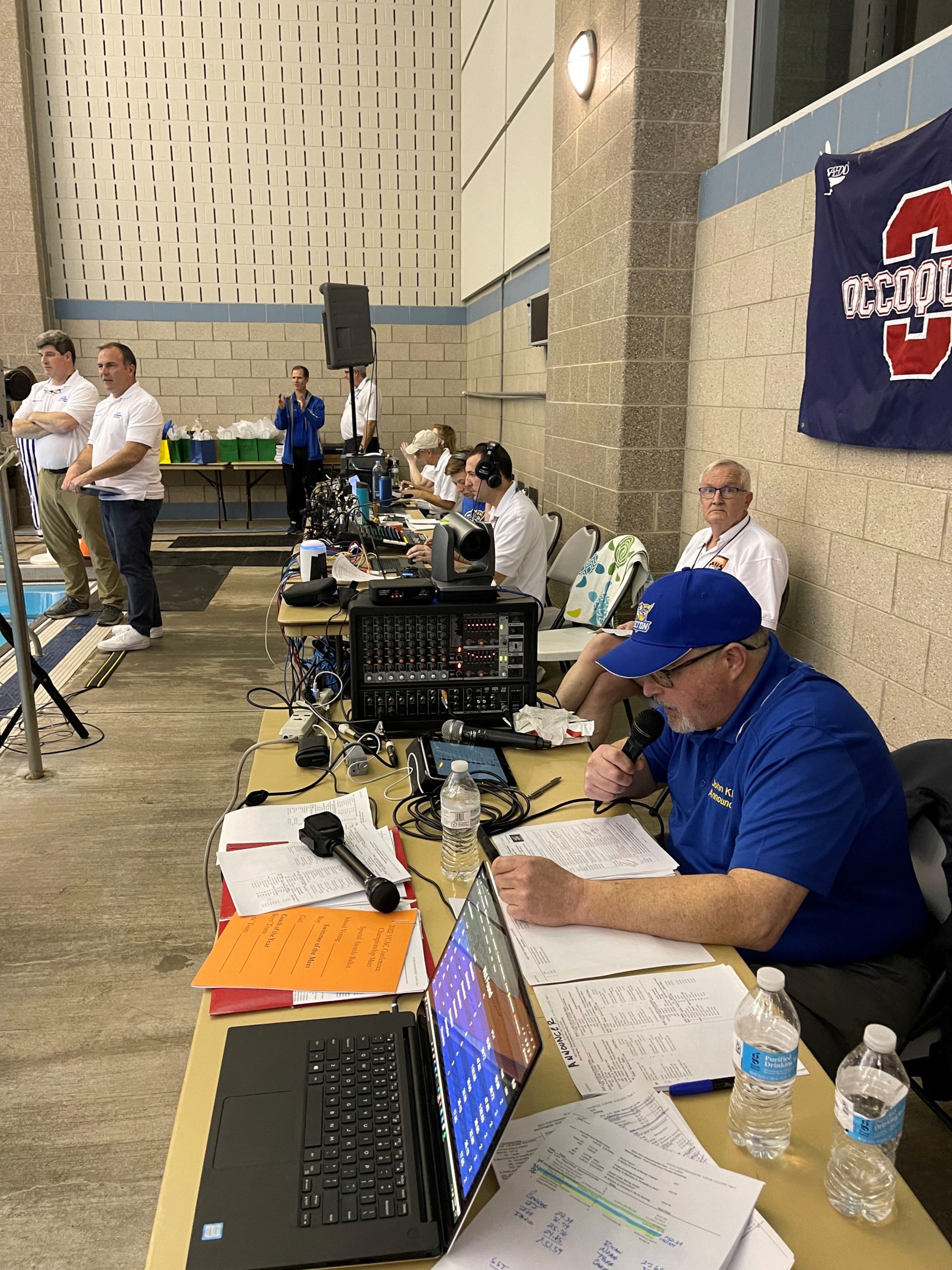 I thought of the "Voice of Seton Swimming", John Kleb, whose carefully curated music and resonant tones filled the aquatic center with energy.  I thought of Charles Seltman, the "Godfather of Seton Swimming", who has refereed our meets for more than 25 years now.  I thought of all of other parent volunteers who took the time to get trained to function as computer scorers, CTS operators, Starters, Head Timers, and Stroke & Turn judges – or helped us out as timers.
I thought of the Trinity Christian coaches and parents who put together the best senior parade I've ever seen at a Conference Meet.  With bios being read by Fleming Saunders, the Trinity Athletic Director, each senior marched through a tunnel formed by cheering kids with Kevin Orellana and Gabe Hambleton racing to keep them on the video livestream with their mobile cameras.
I thought of the sixteen (16) volunteer Seton Coaches who have been rising early each weekday morning since Election Day to help develop these kids into the swimmers and divers – and the people of character – that we saw on Saturday night.   I even had the pleasure of meeting Coach Ross Palazzo's parents after the meet.  Jon and Sandy Palazzo should be justifiably proud of the impact their son is having on our program.
And finally, I thought of how well our kids performed in the pool.  I've always said that "if we swim PRs, the winning will take care of itself", and that proved to be true once again.  While our girls saw the top of the medal stand multiple times, believe it or not, our Seton boys did not take a single gold medal.  In fact, the Trinity Christian Boys won the gold medal in every event except the two (2) that contained Liam Hopkins from Saint John Paul the Great.
Our boys won with our depth.  The Boys 100 Free was a great illustration.  Trinity Christian took both the gold medal and the silver medal – and lost the event to Seton 42 to 30.  How?  Seton took 3rd, 4th, 5th and 6th.  That was the story of the night.  A dominate victory from a Trinity Christian boy swimmer followed by four (4) Seton swimmers in the top 8.
Take a moment to look down the Improvement column of the Individual Results report.  Look how many negative numbers you see (positive for Diving) – those are all time drops.  Of the 92 swims and dives, including relay leadoffs, just under two-thirds of them were lifetime-best performances.  That's how we got so many kids scoring in the top 8.  And that is just too many points for any other team to overcome.
Individual Results-VCAC Conference Championship-Feb12,22
58 Personal Records was a remarkable total, and that made all the difference, particularly against a Trinity Boys team that was also swimming so many personal bests.
Meet Results
Congratulations to both the Seton Boys and Girls who ended the night as Champions of the 2022 VCAC Conference Championship Meet.
And congratulations to this year's Swimmers of the Meet:
Boys – Josh Kim (SR), Trinity Christian School, with four (4) Gold medals and a new VCAC Record
Girls – Angie Testani (FR), with four (4) Gold medals and a new VCAC Relay Record
The meet featured a very high level of competition, and as a result, we saw four (4) VCAC records broken:
Girls 200 Medley Relay

Seton School, Lucy Garvey, Angie Testani, Clara Condon, Mary Pennefather, 1:52.65

Boys 200 Free

Josh Kim, Trinity Christian, 1:46.54

Boys 1-meter Diving, 6 Dives

Harper Thornett, Trinity Christian School, 304.2 points

Girls 1-meter Diving, 6 Dives

Keri Hough, Trinity Christian School, 161.00 points.
Concerning conference records, since the VCAC Conference is new, we had a couple of ways to approach our Conference Record Board.  We could have just started from scratch with every winner from this year establishing the new meet record, but we chose a different path.
For records, we chose to consider the VCAC as a continuation of our former Conference since that is basically what it is.  Some schools left, but the all the schools with a competitive swim program from the DAC remained in the newly constituted VCAC.
By approaching it this way, we could preserve the tradition and past performances of some of the greatest swimmers in conference history from Trinity Christian, Fredericksburg Christian, and Seton.  How could we have a Conference Record Board without Brooke Williams, Annalise Cornett, Andrew Turbyfill, Anna Kenna, Jameson Hill, Kevin Koehr, Nevin Cook or Vincent Dunn?
So, I went back to the results for every Conference Championship Meet and VISAA Division II Invitational (which was the also the Conference Champs for a few years) and found the fastest times for schools currently in the VCAC Conference.  For those interested, here is the detailed data that I used:
VCAC Records-SCY-May26,21-backup info
Meet Records-VCAC Conference Championship-Feb12,22
Meet Scores
Going into the meet, I knew we had the edge because of Diving.
The Diving competition was held eight (8) days earlier at the Freedom Center, and while Trinity Christian won the gold medal for both the boys and girls by wide margins, Seton took 2nd, 3rd, and 4th.  On the boy's side, we also added a 5th place finish.
The result was a 30-point lead for the boys going into the swimming portion of the competition.  Scoring the Psych Sheet, I expected us to win the Swimming events by only 5-points, but with the buffer provided by Diving, I thought we could win comfortably by 35-points.
And that is close to the way it turned out:
Boys
Seton School                            408
Trinity Christian School        365
John Paul the Great               157
Fredericksburg Christian     135
Girls
Seton School                           450
Trinity Christian School        341
John Paul the Great              169
Fredericksburg Christian      99
This final victory capped another prolific season for Seton Swimming:
Hosted ten (10) meets, which I'm reasonably sure is more than any other school in the State of Virginia, public or private.
VCAC Regular Season Champions – Girls (28th in a row).
VISAA JV Invitational Meet Champions – Boys
VISAA Division II Invitational Meet Champions – Girls
VCAC Conference Meet Champions – Boys and Girls
All that is left is for our Girls to try to win their 6th VISAA Division II State Championships, and our 10th overall.  Given the number of individual points that will be scored by the top female swimmers at The Steward School, that is going to be a very tall order, but I've seen Seton swimmers do amazing things at States.
All-Conference Honors
One of the unique features of the VCAC Conference Championship Meet is the path it provides to recognition as "All-Conference".  Anyone who finishes in the top-3 in an individual event is designated "All-Conference".
We had fourteen (14) swimmers who earned All-Conference honors a total of 20 times:
Angie Testani (FR) is a two-time VCAC Individual Champion and a two-time Relay Champion. Her 200 IM was a superior, particularly her breaststroke leg where we seem to always be able to count on her to pull ahead.  The result was a 2.02 second PR, but the swim of the night was Angie's 500 Free.  Facing off against a great Trinity Christian swimmer, Teagan Stermer, who beat Angie at the Division II Invitational by only 0.1 seconds just last week, Angie took it out fast.  Then she settled into eight (8) consecutive 50's with very tight splits between 34.00 and 34.85.  Combined with good walls, she was able to pull away near the end, taking the gold medal by nearly 14 seconds with a 5.60 second PR.   Her 30.89 breaststroke split was also a big part of the reason we were able to break the Conference record in the 200 Medley Relay.
Clara Condon (FR) is a two-time VCAC Individual Champion with gold medals in both 100 Fly and 100 Breaststroke. Her 100 Fly dropped another .03 seconds as she rapidly approaches that 1:00 barrier.  Clara was also a key contributor to the gold medal and new conference record for our Girls 200 Medley Relay where she split a remarkable 26.88!
Lucy Garvey (SR) gave her new little brother something to cheer with her two All-Conference performances. She took the silver medal in 200 Free, but her her best performance of the night was in 100 Backstroke where she won the gold medal after a 1.00 second PR swim.  She also led off our Conference record-setting 200 Medley Relay and was a big contributor to the silver medal in the 200 Free Relay after splitting .47 seconds faster than ever before.
Connor Koehr (FR) took two silver medals in Diving and the 500 Free to claim All-Conference honors twice. In Diving, he had a PR score of 173.40, and his 11-dive score of 303.65 should put him in a good position to make it to the Finals at States.  In the 500 Free, Connor dropped another 3.32 seconds to go 6:13.10, a very fast time for a freshman.  Connor also swam a lifetime best 25.82 in an exhibition 50 Free swim to hit the bonus 50 Free cut for States.
Mary Pennefather (JR) took the silver medal in 50 Free with a time that earned her the State Championship qualifying time. We've worked quite a bit on race finish technique in practice, that that ended up making difference between silver and bronze for Mary which she out-touched a Trinity rival by only .08 seconds.  She also anchored our conference record-setting 200 Medley Relay with a fast split under :26.00, and she took 5th in fast heat of 100 Free.
Joe Wilson (JR) swam well in 100 Fly to take the silver medal against a very fast Trinity swimmer. Joe also scored in 5th place in 200 IM.
Mary Clare Waldron (SR) won the silver medal in Diving with a PR score of 152.55. Her 11-dive score of 268.25 should put her in a good spot to make it to the Finals at State this coming weekend.  But the highlight of Clare's weekend was her state-qualifying swim in 100 Breaststroke after a .62 second drop.
JJ Brox (JR) had the best meet of his life, surprising us all with two (2) All-Conference performances. The biggest surprise came in 100 Free where JJ somehow managed to drop 2.48 seconds and jump up to the bronze medal from his distant 4th  Then, in 100 Breaststroke, JJ dropped another .73 seconds to take the silver medal and beat the State cut to boot.  JJ also dove exhibition so that he could score all these points in swimming, but his 32.30-point PR in diving would have scored in 4th place had it counted.
Isabelle Luevano (SR) is nearing the end of a tremendous senior season, and she made the most of it with a huge 1.50 second PR in 100 Free. Her 58.30 was good enough for the bronze medal.  Isabelle also took 4th in 50 Free with a .08 second PR.
Teresa Bingham (SR) culminated her six (6) year career swimming at Seton with the bronze medal in 200 IM. Her 1.23 second PR jumped her up from her 4th seed take the medal while holding off a charging Fredericksburg Christian who was the 3rd  Teresa also took 5th in 100 Fly with a 1.05 second PR.
Drew Nguyen (FR) has emerged this season as one of the most promising swimmers for Seton in the future. That is why I was so pleased to see him swim a PR in 100 Breaststroke to take the bronze medal and his first All-Conference recognition.  Drew also took 4th in 100 Free.
Michael Brox (FR) saved up for a big charge in the last 50 yards of his 500 Freestyle to take the bronze medal with a 1.27 second PR. I'm really looking forward to seeing what Michael can do in this event next season.
Mick Fioramonti (SO) earned All-Conference honors with his bronze medal in Diving. Mick also scored in 4th place in 100 Backstroke after a .03 second PR.
Rose Waldron (FR) won the bronze medal in Diving with a 12.90-point PR score. She also completed 11-dives successfully to qualify to compete at States.
The All-Important Relays for States
As we approached the State Championship, I knew that the performances we saw on Saturday could have a big impact on our State Relays – and I was right.  Every year, there always seem to be kids that step up at the right time, and this year was no exception.
Elodie Brox (FR) was one of those swimmers.  Elodie's 50 Free split at the end of the "B" Medley Relay was so fast that I had to go back to livestream just to make sure there wasn't a mistake on my reports.  There was no mistake.  Here 26.44 was 1.13 seconds faster than her previous best split and jumped her from the 6th fastest split on the team to the 2nd fastest!  Lucy Garvey (SR) and Isabelle Luevano (SR) also swam splits fast enough to ensure their place, along with Mary Pennefather (JR) and Elodie on our 200 Free "A" Relay for States.
Angie Testani (FR) was another such swimmer.  After helping break the Conference Record in the 200 Medley Relay at the beginning of the meet, she capped off her great meet with an amazing 57.61 100 Free split on our gold medal 400 Free Relay.  Prior to that swim, he had not even broken a minute in 100 Free this season.  I'm sure her great improved breathing contributed to such an amazing result, a result that was the fastest 100 Free split swum on the team this year.
Combined with improved splits from Emily Flynn (SR) and Lucy Garvey (SR), Angie will join Mary Pennefather (JR) on our 400 Free Relay.  I wouldn't normally put a breaststroker on this relay, but that time was so fast, I have no choice.
JJ Brox (JR), as I've mentioned before, had an amazing meet, arguably the best on the team.  Not only did he do so well individually, his 50 Breaststroke split in the medley relay was phenomenal.  After dropped 1.13 seconds to 30.66, JJ showed that he could fill the big shoes of our previous "A" relay breaststroker without the team missing a beat.
JJ's great performance opened a slot on the Boys 200 Medley "B" Relay which Joe Rowzie (SR) filled after cutting another .13 seconds from his previous best 50 Free split.
The final movement in our relays came as Michael McGrath (SO) and Peter Konstanty (SO) battled it out for slices of time less than a tenth of second.  Congratulations to both for making it onto the State Team for the 400 Free "B" Relay.
Other Personal Records and Great Swims
As I have already highlighted so thoroughly, the margin of victory our Seton was due in large part to our 58 Personal Records on Saturday night.  Incredibly, that brings our season total to 985 Personal Records!  Can we get 15 more at States to break 1,000?
Here are the rest of the great swims from this past weekend:
Sophia Zadnik (SR) made the most of the very last swims of her high school career with a .82 second PR in 100 Fly. Seeing the big smile on her face left a big smile on my face too.
Madelyn Zadnik (SO) had a great swim in 200 Free, beating her previous best by 2.44 seconds.
Max Wilson (FR) crushed his 200 IM PR by 6.60 seconds.
William Sokban (FR) continues to get better in 100 Fly, this week by another 2.50 seconds.
Joseph Rowzie (SR) is heading into States with some momentum after dropping .15 seconds in 50 Free and .19 seconds in 100 Free.
Jacqueline Oswald (JR) used great race finish technique to secure first place in her heat of 100 Free and complete a 1.36 second PR swim. Jacqueline also dropped another .32 seconds in 100 Back to take 6th
Michael McGrath (SO) showed me early in the meet that he came for more than just earning a spot on a 400 Free Relay. He crushed his heat in the 200 Free by dropping 11.09 seconds.  Coach DD Ross was smiling.
Kateri Mantooth (JR) had a great meet to conclude her junior season with a huge 16.09 second PR in 500 Free and a 1.39 second PR in 50 Free. That's a big drop for only a 50-yard race!
Peter Konstanty (SO) won some valuable points for Seton with his 8th place Personal Record swim in 200 IM, beating his previous best by 1.45 seconds.
Seth Kellogg (FR) scored in 9th place in the 200 IM after his .09 second PR.
David Hudson (SO) is ready for the 200 Free Relay at States after he cut another .11 seconds from his 50 Free PR.
Maggie Gibbons (SO) keeps getting faster. I was so pleased to see her drop another .29 seconds in 50 Free.
Haley Fifield (FR) looked better than ever in 200 IM, and it showed in a time a that was 7.39 seconds faster than ever before. She also cut .50 seconds in 100 Backstroke.
Joey Dealey (JR) rocked his last opportunity of the season to swim 200 Free, cutting another 1.34 seconds from his PR.
Lily Byers (SR) made the most of the last competitive 500 Free of her life with a 6.33 second PR. She really swam well, with a set of splits that were very consistent throughout the race.
Elodie Brox (FR) helped to show that her 50 Free Relay split with no fluke after a .44 second PR in the flat start 50 Free. She also cut a huge 1.11 seconds in 100 Breaststroke.  I can't wait to see what Elodie can do next season!
Joseph Borneman (FR) wrapped up his season with two PRs. In 100 Fly he dropped 1.64 seconds, and in 200 Free he dropped .83 seconds.  Both of those swims scored in 7th
Ryan Beltran (SO) quietly scored twice in 8th place with one of those swims, 100 Back, ending with a .92 second PR.
Jed Albin (SO) had two strong PRs to end his season. Jed cut 3.12 seconds in 500 Free and 4.40 seconds in 100 Back.  I've never seen his backstroke technique look better.
What's Left?
We've reached the final part of the season that so many of look forward to each year – the VISAA State Championship Meet.
Looking at the times posted on SwimCloud from other VISAA schools, I think we may have an outside chance to take another Division II State Championship for the Girls, but The Steward School is going to be very hard to beat.  Let's swim loose, have some fun, race with some abandon, and see what happens.
I'll see the State Team at breakfast at IHOP on Thursday morning to start the big weekend.  I also hope to see all the Seniors join us for our Saturday night celebration dinner at Columbus Grill.
And finally, it is not definite yet, but we are targeting Sunday, March 6th for the Swimming and Diving Awards followed by our annual Senior Dinner (parents included).  I'll put out some more information on this shortly.
For now, rest during the day, sleep well at night, and very importantly, eat and drink well.  It's time to race!
Coach Jim Koehr