States was back!
673 athletes from 49 teams, music blasting, kids singing and dancing, costumes in a parade, hugs and tears from seniors swimming for the last time, Seton swimmers gathering between sessions at family homes for Pasta and Chinese noodle feasts, and even our own concluding celebration dinner at Columbus Grill.   Most importantly, we saw kids have the breakthrough swims they have worked so hard to achieve on the biggest stage of the year.  These were just a few of the highlights from the 2022 VISAA State Swim and Dive Championship at the Claude Moore Recreation Center in Sterling, VA.
Last weekend (Feb 18-19, 2022), we took 28 swimmers and divers into this incredibly fast meet.  In a meet like this, there are Preliminary heats in the morning to establish the top 16 qualifiers who swim again at night in the Finals.  Getting swimmers to qualify in the Top 16 in a meet like this is no small feat.  It is especially difficult with a limited number of USA swimmers.
Despite that, one (1) of our six (6) scoring relays for boys and girls qualified for the Championship Finals, and the three (3) more qualified for the Consolation Finals.
Individually, we saw Angie Testani (FR) and Connor Koehr (FR) qualify for the Championship Finals, and Clara Condon, Mick Fioramonti (SO) and Josh Fioramonti (8) qualify for the Consolation Finals.  We also saw our team record in 100 Breaststroke go down – twice!
With those great performances, our girls came within 11 points of being the State Division II Runner-up for the sixth time.
Seton wasn't officially a co-host for the meet, but I was so proud to watch Bill Dealey and Hank Konstanty manage all the timing and scoring systems and Charles Seltman serve as one of the Starters and Deck Referees.  The meet required about 125 volunteers, and little Seton was able to fill many of the key roles.  Seton definitely shined last weekend, both in and out of the water.
Thanks to the leadership of Coach Dalrymple, Mrs. Luevano, Mrs. Gibbons, and Mrs. O'Malley, we had wonderful team meals that didn't require long waits for restaurants to serve drinks and take orders.  I'm quite sure no other team was eating like we were at States this year! And thank you to Mrs. Nguyen who drove a large portion of the team in "Win Bus".
We started the weekend with a team breakfast at IHOP where the new State Team members received their State Team Rugby shirts.  Then, after a late afternoon warm-up at the pool, we fueled up for the big weekend at the Gibbons' house with a Thursday night pasta dinner.
Our Thursday night dinner has become one of the highlights of the meet for me because of a few traditions that were started by the Captains a few years ago.  What started as a presentation of gift bags to each swimmer on the State team turned into a wonderful event that continued this year also.  I hope the future Captains maintain this tradition.
After the gift bags, the Captains pulled out "The Cone" – a traffic cone from the Seton parking lot that ended up at the State meet a few years ago thanks to Shane Koehr.  Since then, "The Cone" has been signed by every State swimmer.  The Captains had a ceremony where all the new State swimmers were honored with a chance to sign "The Cone".  Even Coach Ross Palazzo got to sign.
The signing of The Cone was followed by an impromptu viewing of some of Coach Palazzo's greatest high school swims.  After all that, I think the kids were ready to compete!
Scoring
This meet was unbelievably fast.  Imagine a Girls 500 Freestyle where the top seed went out 25.06 for the first 50 and won by 22 seconds, or a Boys Medley Relay with two (2) splits for 50 Butterfly under 22.50, or a Boys 400 Free Relay where the slowest guy went 49.02!  Of the 24 total events, there were six (6) new Meet Records.  With only the top 16 finishers getting points, it is very hard to score at all in a meet like this.  The result is a premium on the fastest swimmers, particularly in the Division II.
Recall that our State Championship is scored like one big championship meet.  The team with the highest point total is declared the "Overall" State Champion, and the Division II team with the most points is declared the "Division II" State Champion.
Here's an excerpt from the scoring of a very exciting and competitive meet.  The Division II schools are in bold:
Girls
Collegiate School                   351.5
Norfolk Academy                   338.5
St. Catherine's School           217.5
Bishop O'Connell                   166
St. Paul VI Catholic                131
The Steward School             130 – Division II Champ
Trinity Episcopal                    120.5
St. Anne's Belfield                 116
Peninsula Catholic                 71 – Division II Runner-up
Seton School                            60
Cape Henry Collegiate          58
Veritas School                         55
Boys
St. Christopher's School      301.5
Collegiate School                  295
Norfolk Academy                 224.5
Flint Hill School                     172
Woodberry Forest School   123
St. Anne's Belfield                 118
Bishop O'Connell                  117
Trinity Episcopal                   111.5
Trinity Christian School     103 – Division II Champ
Christchurch School             70 – Division II Runner-up
The Covenant School           65
Veritas School                        57
Hampton Roads Academy  52
Peninsula Catholic               34
Seton School                          22
Angie Testani and Clara Condon
In the big meets, the best swimmers shine – and even though they are still only freshman, Angie and Clara were two of our shining stars last weekend.
They've been pushing each other since they were even younger than they are now.  Here's a picture that was floating around the team area during the meet: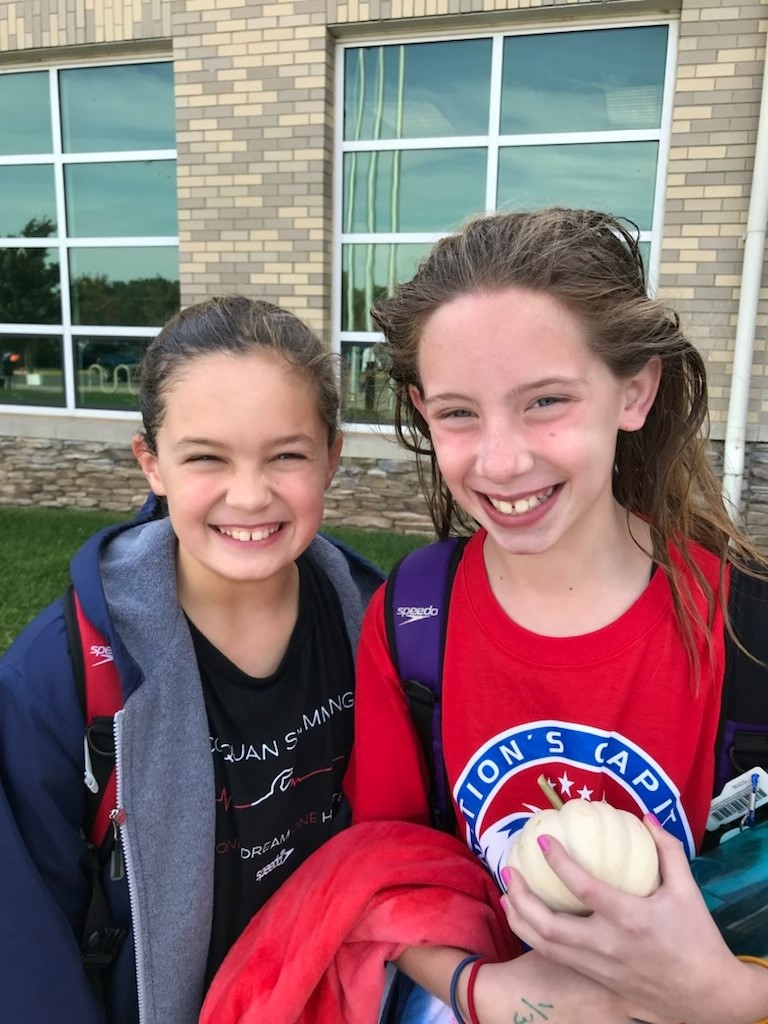 On the first day, they both swam well individually, particularly in Prelims where Clara swam a 1:00.57 in 100 Fly to qualify 12th for Finals, and Angie swam a .99 second PR in 200 IM to enter Finals seed 15th.  The ended-up finishing 11th and 16th, respectively, but even though their medley relay had taken 7th overall in the Championship Final with a season best time of 1:52.76, they both were clearly unsatisfied.
After a good night's sleep and a two (2) Personal Record swims in 100 Breaststroke on Saturday morning in Prelims, the stage was set for two (2) of the best swims of the weekend for Seton in the Finals that night.  Clara entered Saturday night seeded 9th after a .63 second PR in the morning, and Angie entered Finals seeded 5th after her 1:07.71.
First to go that night was Clara in a very fast heat of Consolation Finals.  She had a great start and took it out fast, as she always does.   When she touched in 11th place, all quickly became right with the world.  Looking up at the scoreboard, we all saw an amazing 1:07.53 – a new Seton Team Record for Clara Condon!
Then Angie marched up to the blocks with the Championship Finalists.  After her best start of the season, she turned at the 50 in only 30.85.  I can still hear Coach Palazzo say, "This is going to be a 1:05!".  He was right.  Angie touched in 4th place at 1:05.77 – a new Seton Team Record for Angie Testani!
I can only imagine how much fun we are going to have with Angie and Clara over the next three (3) years.  The idea that they will be teamed up with Juniors like Mary Pennefather, Jaqueline Oswald and Kateri Mantooth, sophomores like Maggie Gibbons, so many other freshmen like Elodie Brox, Anastasia Garvey, and Lucy Pennefather, and even a 7th grader like Ariana Aldeguer,  is awfully exciting to ponder.
Connor Koehr and the Fioramonti Brothers
Connor Koehr (FR), Mick Fioramonti (SO), and Josh Fioramonti (8) have been hanging around Seton meets for many years now.  All three (3) are from large families with loads of boys, and all three (3) have seen many older siblings swim on the team over the past two (2) decades.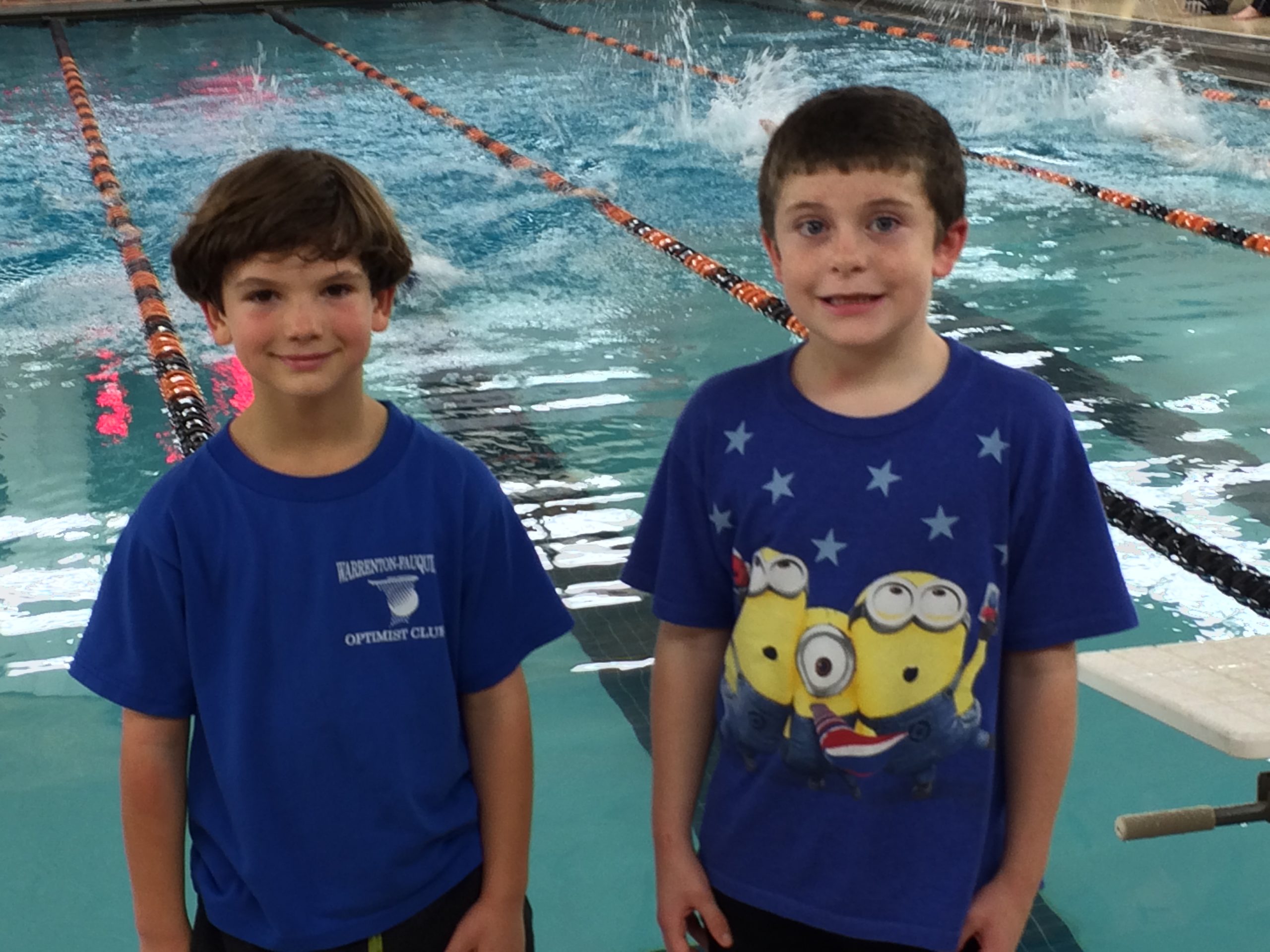 I always knew they would swim on the team one day, but I couldn't have conceived of what they might accomplish one-day as Seton Divers.  Coach Ashley Keapproth and Coach Seamus Koehr have provided an opportunity of which the three (3) are taking full advantage.
At last weekend's State Championship meet, our boys scored 22 total points – and 20 of them came in Diving!
There were 28 total diving competitors, so the competition featured two "cuts".  After five (5) dives, the field was cut down to 20 competitors.  For the semi-finals, Josh was seeded 8th with 132.0 points, Connor was seeded 9th with 130.0, and Mick was seeded 14th with 120.70 points.  JJ Brox (JR) dove well, but unfortunately, one missed dive was enough to keep him out.
After three (3) more dives, the field was cut down once again, this time to the final 16 divers who would score points.   When they announced the Finalists there were high-fives all around as all three of our remaining boys qualified – Connor in 9th, Josh in 12th and Mick in 14th.
With only three (3) dives remaining, could we get someone into the top 8?  The answer was yes!  With strong scores on an Inward 1-1/2 Somersault and a Forward 1 Somersault with 1 Twist, Connor Koehr jumped onto the medal stand with a 7th place finish at 273.80 points.  Josh finished in 12th with 247.10 points and Mick scored in 14th with 235.40 points.
The future of Seton boys Diving is very bright!
Joe Wilson Breaks Through
I think Joe was starting to get a little frustrated.  Even though he was working hard in practice, he was not seeing the Personal Records that he was hoping to see as the season moved toward a conclusion through the end of January.  He knew we were working harder in practice, and swimmers at his level often don't see improvement until after the rest that comes from shorter late-season practices, but that didn't seem to be of any consolation.
After this past weekend's State Champs though, all of Joe's frustrations were gone.  I've been watching Joe swim for five (5) years now, and this was the best I've ever seen him race.  He was just swimming out of his mind this past weekend.
It all started in the Medley Relay when Joe split a 24.49 in 50 Fly.  Really?  Did JJ not touch the pad properly making Joe's split artificially faster?  Nope.  After a lifetime best 25.76 at the VCAC Invitational in early January, Joe really had swum more than a whole second faster with a split time faster than everyone else on the team's 50 Freestyle, except his own.
Next up on Friday was 100 Fly.  Before the race, Joe simply knew he was going to crush it – and he did.  Taking it out in a blazing 25.67, he came back in 31.62 for a massive 2.08 second PR 57.29!  But he wasn't done.
The next morning, Saturday, Joe continued his incredible string of great swims.  In the 200 Free Relay, Joe anchored with a 23.17.  His previous best split was 24.02 back at the December Homecoming Invitational so that was a drop of nearly a whole second!
Believe it or not though, we still hadn't seen Joe's best swimming.  Our Boys 400 Free Relay of Andrew Nguyen (FR), David Hudson (SO), JJ Brox (JR), and Joe Wilson (JR) entered the meet seeded 24th with a season-best time of 3:49.87.  Drew went out at 57.04, David crushed his season-best split by over two (2) seconds with a 56.27, and JJ duplicated the feat with an even fast split of 55.36.  All of that was followed by the most amazing anchor leg of the season.
Joe Wilson hit the water with Seton having no hope of making it back in the top-16 to swim that night – but someone forgot to tell him that.   Joe's best 100 Freestyle of the season occurred back on December 4th when he swam 54.57 at the Icebreaker Invitational, so imagine our surprise when we pulled up his anchor split on Meet Mobile – 51.03!  Somehow, Joe had split more than 3.5 seconds faster than ever before.
Their final time for the Relay was 3:38.81, more than 10 seconds faster than their season best.   What a great way to end the State Championship meet for the boys.  Or was it over?
We entered the meet seeded 24th, so the other coaches and I were not looking at the finish place – until we heard the announcer reading off the list of qualifiers for the Boys 400 Free Relay.
"Qualifying in 16th place, Seton School"
They had earned another bite at the apple.  Joe was so hot, that we decided to lead him off on the relay so he could get a new PR flat start time.  His 52.21 lead-off was a new PR by 2.36 seconds.
David Hudson (SO) and JJ Brox (JR) also dropped again with David going a blazing 55.28 and JJ going 55.18.  Drew Nguyen (FR) also had a great swim while experimenting with how fast he can take it out on a 100-yard race.
Our Scoring Relays Rocked!
Our Boys 400 Free "A" Relay was not the only relay that performed well and earned a swim at night.  For our girls, all three (3) relays scored points with swims in the Finals:
Our highest scoring relay, unsurprisingly, was our Girls Medley "A" Relay of Lucy Garvey (SR), Angie Testani (FR), Clara Condon (FR) and Mary Pennefather (JR). These girls ended up on the medal stand with a 7th place finish and season-best time of 1:52.76.   Lucy led-off with a 29.03, Angie split a lifetime best 30.35, Clara split 27.08, and Mary split 26.45.
Our Girls 200 Free "A" Relay of Isabelle Luevano (SR), Lucy Garvey (SR), Elodie Brox (FR), and Mary Pennefather cut 2.13 seconds from their season best time to go 1:45.47 in Prelims and qualify as the 13th Isabelle led-off with a .19 second PR 26.65 followed by Lucy's 26.37 (a .16 PR split), Elodie's 25.94 (a .50 second PR split), and Mary's 26.51.  They ended up scoring in 15th place.
Our Girls 400 Free "A" Relay of Isabelle Luevano (SR), Emily Flynn (SR), Mary Pennefather (JR), and Angie Testani (FR) both qualified and eventually scored in 15th place with some remarkable splits. Isabelle led-off with a .37 second PR 57.93, then Emily swam a .06 second PR split of 59.72, Mary swam right on her season-best with a 59.58, and Angie split an incredible 58.31 – immediately after her record-setting 100 Breaststroke swim.
All our remaining relays swam well too, but there are two (2) other relays I'd like to highlight here.  First, our Girls 400 Free "B" Relay contained three (3) seniors, and they all made the most of their final swims by dropping 8.01 seconds from their seed time.
Teresa Bingham (SR) led-off with a 1:01.37 on a season best flat start time of 1:04.23, then Lily Byers (SR) split 1:04.19 on a season best 1:06.69, Maggie Gibbons (SO) split 1:01.54 on a season best 1:03.63, and Mary O'Malley (SR) anchored with a 1:01.87 on a season best 1:02.43.
For all but one (1) of these girls, this was the final competitive swim of their lives, and it was fun to see them do so well.
The second relay I want to highlight here was our Boys 400 Free "B" Relay that dropped 10.58 seconds from their seed time.   Peter Konstanty (SO) led-off with a .11 second PR 1:01.00 followed by Joey Dealey's (JR) 58.08 which was .51 seconds faster than his split at VCAC Champs.  Then Michael McGrath (SO) split under 1:00 for the first time with his split of 59.63, and finally, Michael Brox (FR) crushed his previous best split by 3.23 seconds when he went 56.56 on the anchor leg.
All these boys will be back next season which is very encouraging.
There were several other crazy-good relay splits that I haven't yet had the chance to highlight:
Connor Koehr (FR) led off a "B" Medley Relay with a .24 second PR 29.10 in 50 Backstroke.
Maggie Gibbons (SO) anchored our "B" Medley Relay with a blazing 25.80. Prior to that, her fastest split was 26.97.
Max Wilson (FR) split 28.87 in 50 Fly on a "B" Medley Relay. That was .38 seconds faster than his previous fastest split.
Michael Brox (FR) anchored our "B" Medley Relay at 25.59 on a previous fastest split of 26.34. In the 200 Free Relay, he split an even faster 25.25.
Emily Flynn (SR) broke :27 for the first time with her 26.93 split on a 200 Free "B" Relay.
Mary O'Malley (SR) beat her previous best 50 Free split on a 200 Free "B" Relay by nearly a second with her 27.38.
David Hudson (SO) matched his PR exactly with a 25.30 lead-off leg of our Boys 200 Free "A" Relay.
JJ Brox (JR) had a great swim in the 200 Free "A" Relay with a split of 24.65. His previous fastest split was 25.19.
Joey Dealey (JR) ended his season with a 50 Free split under :26 for the first time. His 25.75 was .42 seconds faster than his previous best.
We Hit our Season Goal for 1,000 Personal Records
With 18 more flat-start Personal Records, we crossed our PR goal of 1,000 for the season with a season total of 1,003 Personal Records!  That is the highest PR total in the history of Seton Swimming.
It is incredibly difficult for a high-school-only swimmer to qualify from States in an individual event, so when we finished the 985 total PRs after VCAC Champs, I was very worried that we might fall just a few PRs short.  I knew we could get some PRs from lead-off legs of our twelve (12) total relays, but even with perfection there, it would not be enough.
It was the following swimmers not previously mentioned who were able to get us over our goal:
Lucy Garvey (SR) dropped .09 seconds in the Prelims of 200 Free to finish in 38th Lucy also took 17th place in 100 Backstroke by just .03 seconds.
Mary Clare Waldron (SR) rocked her final 100 Breaststroke with a .96 second PR to finish in 31st
Elodie Brox (FR) swam a .04 second PR in the bonus 50 Free.
Emily Flynn (SR) cut a final .09 seconds from her 50 Free in the bonus event.
Maggie Gibbons cut .27 seconds in the bonus 50 Free.
Mary O'Malley (SR) made the most of her last 50 Free with a big .55 second PR.
Gratitude and Meekness from Trinity Christian Swimmers
After the great battle we had with Trinity Christian this season, particularly the back and forth with their boys, I was so excited to see the Trinity Christian Boys win the VISAA Division II State Championship.  It was a lot of fun for me watching Coach Alyssa Knauf and Coach Yancy Stermer leap into the pool with all their kids.
It was even more fun watching the Trinity boys in the water.  Led by Josh Kim (SR) who swam in four (4) Championship Final heats.  Individually, Josh took the Bronze medal in 100 Free and 5th in 200 Free.  Their biggest points however came in the relays where Josh was joined by Ryan Hough (SO), Tyler Phillips (8), and Justin Kim (SO) to earn the 24 points that come with 7th place in both the 200 and 400 Free Relays.
The competition with Trinity Christian has been a wonderful part of our Seton seasons since they first burst onto the scene for the '15-'16 season.  This year was no different.
At the beginning of Preliminaries on the first day, their Captains handed me a little gift bag.  In the bag was a bunch of hand-written notes of encouragement from everyone on their team to everyone on our team.  The notes also expressed heartfelt gratitude for all that our Seton parents have done to help ensure another great season.
Thank you, Trinity Christian, for living the virtues of Gratitude and Meekness.  You and your team have competed in a way that has made Seton better, even as you and your teammates gave everything you had to try to beat us.  And for that, we are grateful also.
Farewell to Our Seniors
It was impossible not to notice that this was the last meet for the 10 seniors (out of 25 total seniors on the team) that we were able to bring to States with all the silly restrictions.  In alphabetical order, we said farewell to:
Teresa Bingham
Lily Byers
Emma Catabui
Emily Flynn
Lucy Garvey
Céilí Koehr
Isabelle Luevano
Mary O'Malley
Joseph Rowzie
Mary Clare Waldron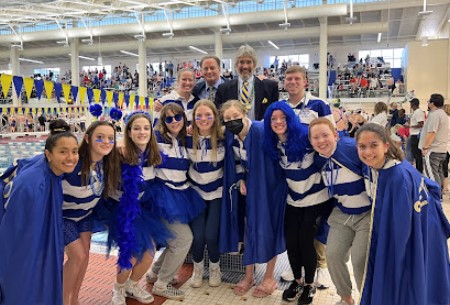 Many shared some tears.  This is my 11th time experiencing this with one of my kids, and I'll admit that it got to me a bit too.
We are certainly going to miss all 25 of our graduating seniors.  They are going to be hard to replace, but fortunately, most of them left us with younger siblings to take their place 😉.
Next Season, Conference Champions again?
I'm not sure if this is true, but I strongly suspect that 25 graduating seniors is the most ever in a single season for Seton.  That's the bad news.
The good news is that we currently have 74 swimmers who are 9th grade and below.  And our class freshman class of both boys and girls is loaded.  It is hard to imagine that we won't be able to recover from this massive graduate rate very quickly.
Our kids aren't the only ones who graduate.  Our key conference rivals are experiencing some of the same challenges.  Depth has always been Seton's calling card.  With the depth we have coming up the ranks, I like our chances to repeat as both the Boys and Girls Conference Champions again next year.
But we are also going to need to have another great recruiting year inside the school.  There are plenty of strong swimmers that have either never been on the team or would be great to have back on the team.  Seton Swimming is a great community within Seton School.  Let's use the off-season to expand that community for next year.
Awards are All That Remain
Coach Dalrymple and Mrs. Morales are coordinating our Awards for Sunday, March 6th, probably at Renaissance Montessori School from 2:00 to 5:00 p.m.   I'm traveling a lot this week and next so I'm not exactly sure what is planned beyond that, but I think it may involve delicious treats.  I'll put out more details as plans develop.
Final Thoughts
For much of this season, I also spent a lot of time writing about our GEMS: Gratitude, Excellence, Meekness and Sacrifice.  Those are the values that have powered our team toward a commonality of purpose and a mutual support for one another to do always do our best with the gifts that God has provided.  I feel particularly good about the fact that we were able to tap into that power this year.
So even though the season is over, we are still a team.  I look forward to seeing you all support each other for the rest of the year outside the water the way our State Team supported each other this past weekend in the water.
Coach Jim Koehr